Anxiety Disorder Medication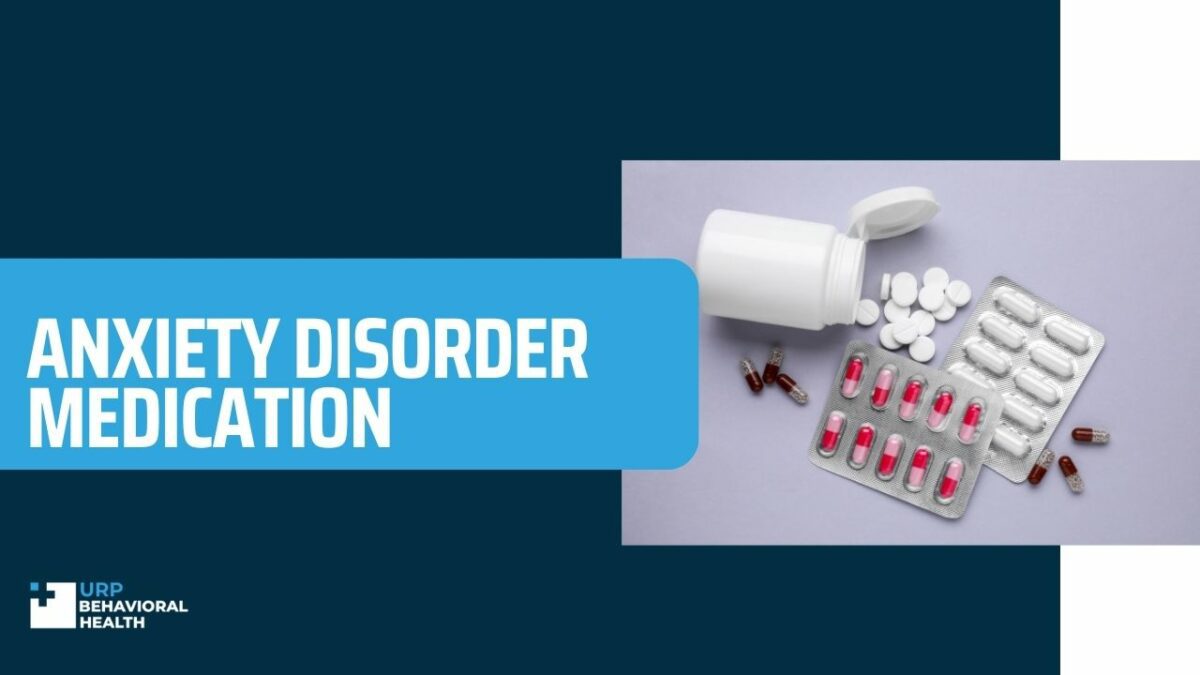 Introduction to Medication for Anxiety Disorders
Studies have shown that as many as 31% of a control group of 60,000 people have anxiety. Although this is still a small sample size, it goes to show that anxiety disorder is unfortunately common. Fortunately, treatment for anxiety disorders is fairly diverse, with a prominent option being medication. Different types of medication help soothe different anxiety disorders.
Anxiety Disorders

Start Your Recovery Today
Call Us Now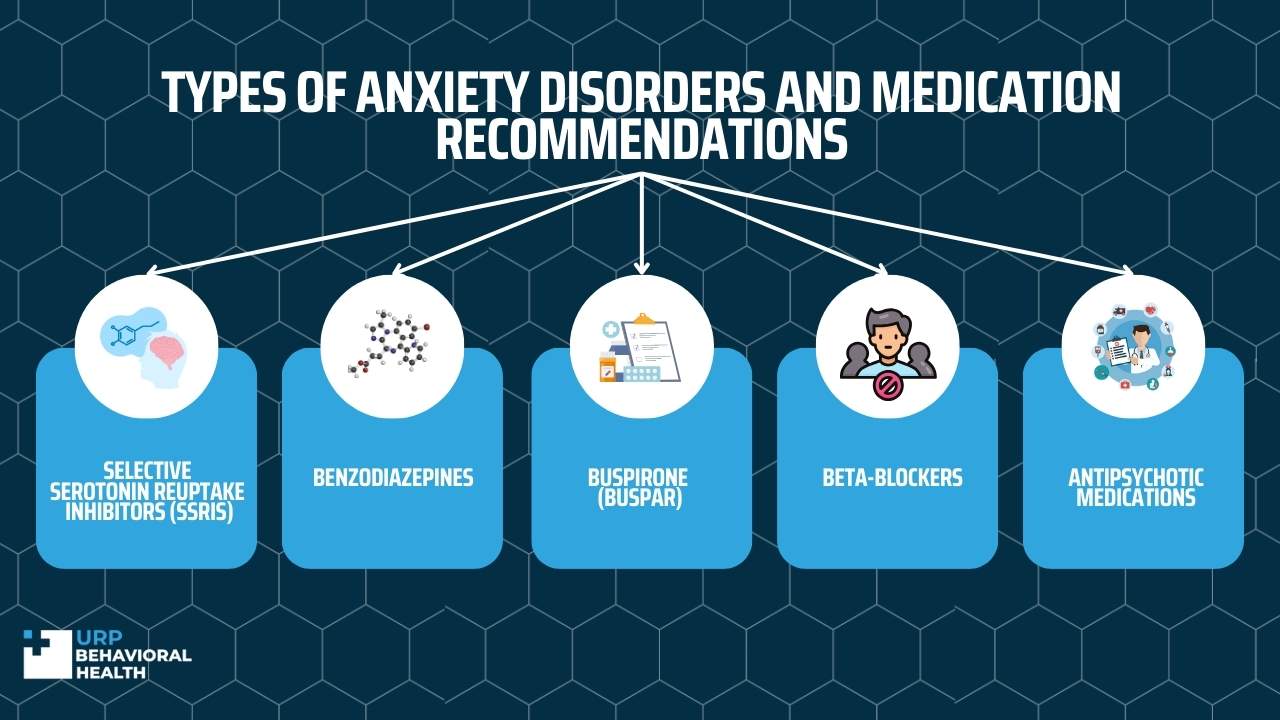 Types of Anxiety Disorders and Medication Recommendations
Different types of medication soothe the body in different ways. It is important to know that there is no one-size-fits-all approach to medicating anxiety. Instead, if you are looking towards this specific type of treatment, then your psychiatrist will likely prescribe one of the following:
Selective Serotonin Reuptake Inhibitors (SSRIs): SSRIs help control the amount of serotonin that the brain creates. Research suggests that it can help with general anxiety disorder and social anxiety.
Benzodiazepines: These are possibly the most effective types of anxiety medication, as they can actively help with social and general anxiety, as well as panic disorder.
Buspirone (Buspar): While effective in treating many long and short-term anxiety conditions, researchers are still trying to find out how exactly it works. The critical consensus is that it regulates mood in the brain.
Beta-Blockers: Although Beta-Blockers are useful in treating heart conditions, they can help alleviate some physical symptoms of social anxiety like chest pain.
Antipsychotic Medications: Although antipsychotic medication is often used for mental health conditions like schizophrenia, it can also alleviate symptoms of more intense forms of anxiety.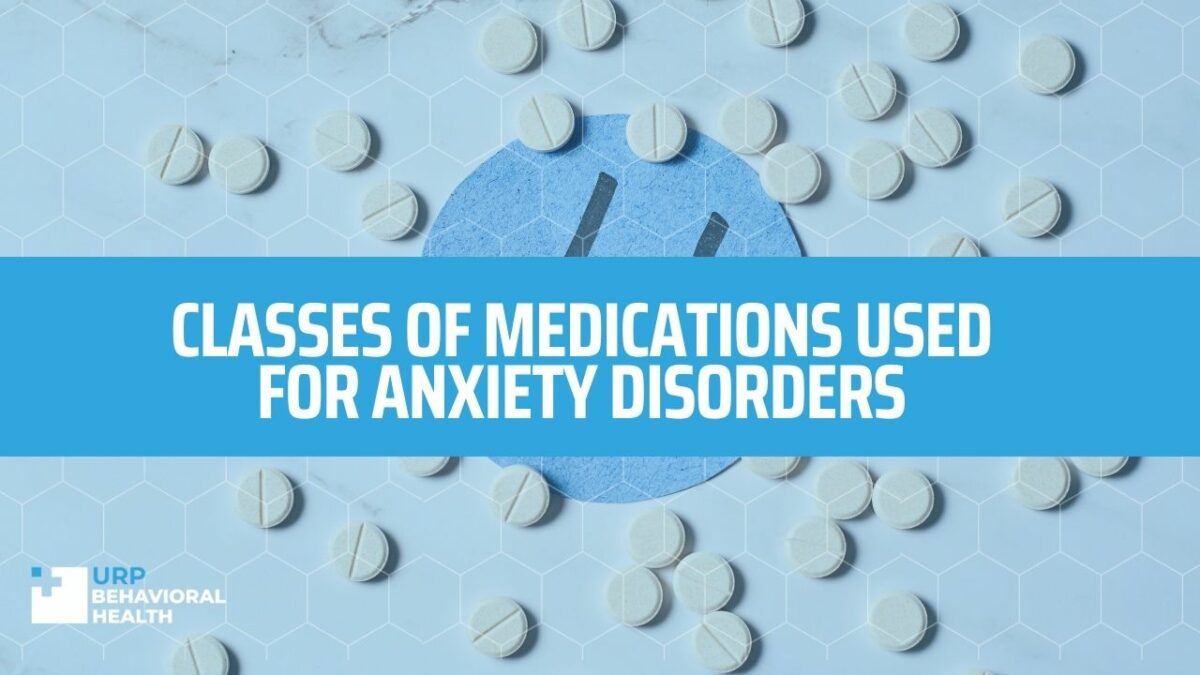 Classes of Medications Used for Anxiety Disorders
Anxiety is an incredibly diverse condition that can affect different people in different ways. Some of the different types of medications used for anxiety include:
Selective Serotonin Reuptake Inhibitors (SSRIs)
SSRIs are one of the most popular options for treating anxiety and its related mental health conditions, as they directly affect the amount of serotonin that your brain generates. Serotonin directly affects memory, sleep, appetite, sexual desire, and much more. Since it affects all of these aspects of the brain, it can help you feel more comfortable in your own skin and can uplift your mood. Many psychiatrists start medication with SSRIs and increase the dosage as needed.
Benzodiazepines
Benzodiazepines are a class of sedatives that can help you relax your mind and your muscles. They are very potent and take as little as 30 minutes to activate in some cases. Relaxing the brain and body can completely subdue a person who is panicking. However, they are so effective at dealing with a wide variety of conditions, such as social anxiety, general anxiety, and panic disorder, that they can lead to dependence if not taken carefully.
Buspirone (Buspar)
Buspirone, when compared to other medications that are on this list, is lesser known. One of the strangest aspects about it is the fact that researchers do not know how buspirone works. While they do know that it affects your overall mood, they do not know why it does that. Regardless, it can still be effective in helping you better regulate your emotions and help you feel more at ease. The only difference is that Buspar can take some time before it becomes fully effective, with the fastest activation time being several weeks.
Beta-Blockers
Beta-blockers are medications exclusively for individuals who struggle with certain heart conditions. In some cases, though, people struggling with more serious symptoms of anxiety will take it to relieve their pain. It is a muscle relaxant that can ease tension throughout the body, all while having a relatively quick activation time. Individuals with social anxiety are especially likely to use beta-blockers before they meet with important people or give a speech.
Antipsychotic Medications
Antipsychotics are a niche drug used to treat serious medical conditions like bipolar disorder and schizophrenia. But along with treating more serious types of mental health conditions, many are also using them to treat various types of anxiety. However, these are possibly the most expensive of all the other medications on this list and can have some serious side effects as well.
Side Effects and Considerations
All of these medicines are very effective at helping individuals cope with anxiety. They can relax and soothe the mind and body, but all of them do come with side effects that you will have to consider first.
Selective Serotonin Reuptake Inhibitors (SSRIs)
Dry mouth: Excess production of serotonin can affect acetylcholine, a neurotransmitter that controls different involuntary actions, like creating saliva in the mouth.
Sexual dysfunction: This is a common side effect of taking SSRIs, as too much serotonin production can affect dopamine and testosterone levels. Leading to difficulty maintaining erections and achievinging an orgasm.
Drowsiness: This is also the result of too much serotonin, as it can make your body feel more relaxed.
Benzodiazepines
Dependence: Since benzodiazepines can be effective and fast-acting, they can lead to dependence if used too frequently, which can require a higher dosage for the same effect.
Withdrawal: Trying to stop consuming benzodiazepines can result in withdrawal-like headaches, sweating, and anxiety.
Vision Problems: Studies on the long-term use of benzodiazepines show that 19% of the test population had trouble reading or seeing objects close to their face.
Buspirone (Buspar)
Since buspirone has yet to be studied in detail, its side effects are still relatively unknown. However, they did find headaches, nausea, and dizziness were common among patients who took it.
Beta-Blockers
Drowsiness: As a muscle relaxant, it is very common for beta blockers to have drowsiness after taking them.
Fatigue: The same goes for fatigue, as your relaxed muscles can make you feel tired.
Nausea: Nausea is often a side effect if you take the medication on an empty stomach. Try to take it with food and avoid eating anything spicy.
Getting the Help You Need
Medication is only effective if you are focusing on consultation as well. However, treatment for any anxiety disorder can become difficult if you are still surrounded by stressors. Therefore, you should consider a residential treatment program where you can develop much healthier habits. Along with being surrounded by medical professionals, you will also be able to engage in exercise and other stimulating activities to keep your mind away from anxious thoughts.
Conclusion
Anxiety disorder is a complicated condition that requires time and the right form of therapy to treat. So, along with counseling, there is a variety of medications that you can take to help treat your particular anxiety. But make sure that you are discussing dosage with your psychiatrist and regularly attend therapy sessions.
Let Us Guide You Towards Healing
We know that seeking treatment can be overwhelming, but our staff is here to make the process as smooth as possible. We're available 24/7 to address any questions or concerns you may have.