Schizoaffective Disorder And Bipolar Disorder: What's The Difference?
Schizoaffective disorder is a condition on the schizophrenic spectrum that includes psychotic symptoms and a major mood episode. When diagnosing people with schizoaffective disorder, mental health professionals assess the mood disturbance to determine the type. If you display manic and depressive episodes, you have bipolar-type schizoaffective disorder.
But because the symptoms can look so similar to bipolar disorder, it's difficult to diagnose. In fact, it's common for people to be misdiagnosed with bipolar disorder when they have schizoaffective disorder. At URP Behavioral Health, a team of interdisciplinary medical and mental health professionals treats a variety of conditions, including schizoaffective disorder and bipolar disorder. But for appropriate treatment, an accurate diagnosis is necessary. To have a better understanding of the two conditions, let's discuss their differences and similarities.
Schizoaffective Disorder

Start Your Recovery Today
Call Us Now
Similarities In Symptoms
With schizoaffective disorder, you may experience manic or depressive episodes alongside psychotic features. Similarly, bipolar disorders include depressive episodes and manic or hypomanic episodes. Common symptoms in both disorders are:
Low mood and feelings of hopelessness
Unstable euphoric mood with excessive energy
Disorganized and racing thoughts
Having trouble communicating
Changing in sleeping habits
Change in appetite
These are some common mood-associated symptoms that occur in schizoaffective disorder and bipolar disorder.
The Overlap of Psychotic Features
The above-mentioned symptoms aren't the only thing that the two disorders have in common. Both conditions share an overlap of psychotic features. Studies indicate that more than 50 percent of people diagnosed with bipolar disorder experience psychotic symptoms during their mood episodes.
Due to this overlap of psychotic features, mental health experts have to track the occurrence of these symptoms to differentiate between the disorders. The similarities also lead some experts to consider the possibility that the two disorders are on a spectrum with schizophrenia – and that schizoaffective disorder is a combination of the two conditions.
Differential Diagnosis
According to a 2021 study, schizoaffective disorder is one of the most commonly misdiagnosed psychiatric disorders. In the study, the researchers explain that people with the disorder end up with a diagnosis of schizophrenia or bipolar disorder with psychotic features. This happens because they display overlapping features.
The crucial difference between schizoaffective disorder and bipolar disorder is when psychotic features occur. In bipolar disorder, psychotic symptoms aren't primary features of the condition, so they should only accompany a mood episode.
The diagnostic criteria for schizoaffective disorder, as mentioned in the fifth edition of the APA's Diagnostic and Statistical Manual of Mental Disorders, provides a differentiating factor. Criteria B states that you must exhibit hallucinations or delusions for at least 2 weeks in the absence of a major mood episode over the entire course of the illness.
Causes of Schizoaffective Disorder Vs. Bipolar Disorder
Just like with other mental disorders, there's no single cause for schizoaffective disorder or bipolar disorder. Instead, they develop as a result of different factors that interact with each other. Research suggests that bipolar disorder, particularly the more severe type, includes a strong genetic component.
This implies a higher risk of developing the disorder if someone in your family has it. The same goes for schizoaffective disorder, as research shows that having a relative with schizophrenia, bipolar disorder, or schizoaffective disorder can lead to a higher risk of developing the condition.
Similarly, changes in brain chemical levels are associated with both schizoaffective disorder and bipolar disorder. One study shows that dopamine levels, which typically correlate with mood changes, play a role in the development of psychotic disorders.
Another similarity is that traumatic and stressful experiences can act as triggers that lead to the development of schizoaffective disorder or bipolar disorder. Because both disorders have some similarities in what causes them, mental health experts point to the possibility of a bipolar-schizophrenic spectrum.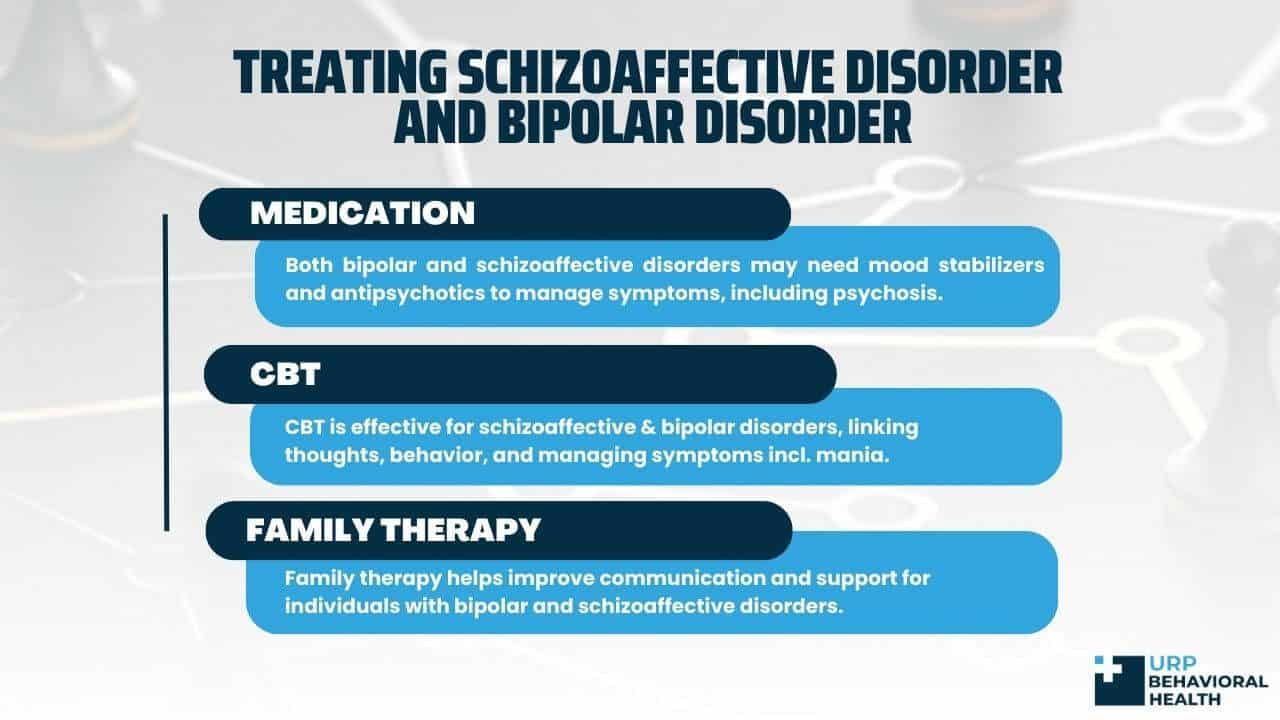 Treating Schizoaffective Disorder and Bipolar Disorder
Even though therapists can opt for similar methods to treat bipolar disorder and schizoaffective disorder, an accurate diagnosis allows them to take a suitable approach. At URP Behavioral Health, you can expect a holistic treatment plan that includes evidence-based and holistic therapies.
Medication
Bipolar disorder and schizoaffective disorder require some form of medication to manage symptoms. One similarity in this regard is that psychiatrists may prescribe mood stabilizers in both cases. That's because you experience the highs and lows of mood in both conditions, particularly in the case of bipolar-type schizoaffective disorder.
While antipsychotics are a given when you have schizoaffective disorder, some people with bipolar disorder require them as well. This is when they have psychotic features as well and need medication to manage the symptoms.
CBT
Because both schizoaffective disorder and bipolar disorder comprise mood disturbances, CBT is a highly effective treatment. It helps you form a connection between your thoughts, behavior, and symptoms. It promotes cognitive restructuring to modify negative thought patterns that contribute to your depressive mood. And if you have bipolar-type schizoaffective disorder, CBT helps you develop skills to manage the severity of manic symptoms.
Family Therapy
Since both disorders can have severe effects on one's relationships with other people, your loved ones may face challenges in trying to support you. Thus, therapists recommend family therapy as a way for you and your family to improve communication, support, and problem-solving skills, whether you have bipolar disorder or schizoaffective disorder.
FAQs
Some of the commonly asked questions about schizoaffective disorder are as follows:
It's a disorder on the schizophrenic spectrum that includes psychotic symptoms and a major mood episode, such as a major depressive or manic episode.
The differentiating diagnosis between the conditions is based on criteria C of schizoaffective disorder. It states that you should experience the symptoms of a major mood episode during the active and residual phases of the illness.
Treating schizoaffective disorder requires a mix of medication and therapy. At URP Behavioral Health, the inpatient treatment program calls for medication, evidence-based therapies such as family and individual psychotherapy, and holistic treatments.
Let us guide you towards healing
We know that seeking treatment can be overwhelming, but our staff is here to make the process as smooth as possible. We're available 24/7 to address any questions or concerns you may have.